Good afternoon!
Thanks for the new version of the program.
Checked by Artlantis 2021 (on Windows). I noticed that there was only one inconvenient color palette (regardless of pressing the right or left mouse button). There was such a problem in Artlantis 2020 (in Windows), but it was then fixed. In the new version, the convenient color palette has disappeared again.
Please return it!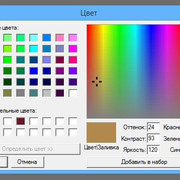 P.S. The word Shaders in the top menu is not yet translated in Russian.