hello Suzan


If you allow me an opinion
the scene is this well-armed, looks great

but I think it lacks some details
Maybe a little reflection on the floor and walls,
Like material washing hands
But I'm not entirely sure, that perhaps is the lack of lighting, not to value these aspects
By improving lighting, a little more intencidad, is likely to accentuate materials
The lighting remains a problem of all, render IN 3, lot's dark scenes and we must learn how to light properly.
… Or also may be my monitor and see it all so very dim
In this case I invite you to follow this post
Ahi try to discover what the best way to light and will create models of lamps that can be used to render IN 3.
Likewise I invite all colleagues to share ideas, models, experience where we can all improve the lighting in this update
Greetings and thanks for sharing


Pedro
Hi Pedro,
Thank you for your response
exposure is indeed a problem, and each screen is different again
I loaded in photoshop with auto contrast, and that makes all a lot from.
Sorry I use translate for my english

That's looking awesome!
Question… how are you projecting the light? I can only create a glow. No matter what shape I make, the light glows. I can't figure out how to make it project as you have done in your model.
Thanks!
Thank you for your compliments
What I've done is a light emitter in spots with minimal light.
Then made Render [in] spots and kept it from the ceiling.
If you do not come out I hear it.
Maybe I can send you a sample.
greetings Suzanne
Hi Suzanne


Discuss in last chance that the scene is armed, some details, but generally okay.
If you let me:
What I dislike is that with Render IN 3 apparently can not achieve a global, general lighting … mood, light the scene
Then we see a certain darkness, and ceiling space is extremely dark, in my opinion.
I do not think the solution is to place a blip on the bottom or front of the scene with some intencidad; looking all lights
In that case clearly seen where the light comes and is inhomogeneous
Now, trying to imitate your scene (excuse my audacity

) and evaluating other resources, now with a volume com emissive material, which envelops the scene.
In render IN 2 perform some tests to study the lighting and apparently found a way, say positive
also develop other types of lamps
Now I'm trying to bring the experience to Render IN 3, everything changes dramatically, all values change, even some characteristics of light are not recognized by Render IN 3
… But apparently I think if you can achieve
I think I need little to do, to finish render and share the scene
regards
Pedro
Hi Pedro
No problem that you attempt.
Indeed, the lighting in version 2 other than version 3, but obviously a lot better. The ceiling effect I feel a lot better and in the opinion considers the dark shadow also belongs to the ceiling, see the reality.
The results are also a matter of taste. If I just may, I think you render to light and clean for a realistic picture. The filling suggests that it is not about reality. I myself always try to make some vuiligere pictures, so that they are not too clean.
Furthermore, it continues to taste. The one like this better, another that.
The reason for my publicity is that there are other possibilities as only very bright images.
Sorry for my english, i use google translate

I only speak dutch.
But fun this interaction.
Greetings Suzanne
Hi Suzanne


You're right, maybe you depend on the opinion, experience or display of each person.
But we must not forget the phenomenon or natural condition of the reflection of light.
This concept helps us understand the behavior of light in a given space.
and I fail to understand that the beam of light reflected in space from one or more points of light; and can be parallel or have no unique address.
When this beam touches the floor, walls or component materials, is reflected.
and this makes the space has a global lighting condition.
particularly I think the common result is not dark or weak, and that is very real, it feels, is palpable
Also all depends on the intensity of the light, its characteristics, the design of the lamp, height and shape of the space; the colors, the textures of materials.
Still I have a lot to look, pending tests; lighting to find that I look for in Render IN 3
In my recent testing, wrapping the scene with a volume that has an emissive material, I have to control your intencidad
a response is observed; but the test is wrong, the result is not as expected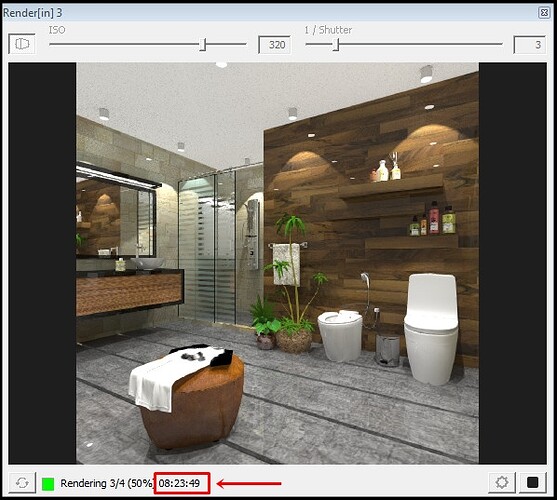 and very importantly, with this technique, times are serious, extremely slow


keep trying
Thank you for your comments

Big greeting
Pedro