Hi,


Pay attention, please

It is obvious, of importance to work in Render IN 3; we have a machine that meets the requirements Render IN 3.
Either the basic or optimos
renderin.com/online-help/system-requirements/
But it is also very important to continuously review the performance of our machines, the processor function properly; the video will not have problems (updated driver), and that memory is in good condition.
We must also review the peripherals that keep the expected operation of the machine: fans, air vents, connectors, among others.
In conclusion, good housekeeping and preventive maintenance
I commented that these aspects?
I tell him:
While it is true that the rate render (Render IN 3) it is slow; it is also true that inadequate operation on the machine may lead to an unexpected slow render times.
… Extremely slow




« Nine hours » and this time not precisely due to the slow Render IN or to the characteristics of our machine or the characteristics of the scene, or the resources applied
In this sense began to doubt and ask me what will be the reason for this slowness ?, because it overheats? that everything becomes slow?
discovered serious problems with the ventilation system of my machine, which affects considerably the performance.


To confirm this situation, I decided to send the scene last night (unchanged), Render IN 3.0.4 and my serial activation, a great friend and colleague in Colombia, Arq. Mauricio Triana.
who recently acquired a machine with the following characteristics:
Win. 7 ultimate
Processor, intel i7, 4790
Ram 16 gb
Gtx 970 video card,

4gb

(correction)
Waoo !!! incredible, the results are extraordinary





We track rendering, by wastsApp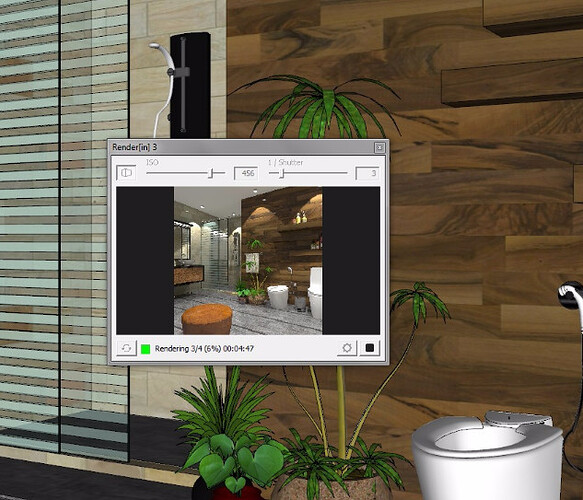 After 4 minutes was reached 6% in stage 3


81% in 31 minutes, step 3
Completing the render in a time of 37 minutes (I owe the image), scene of 41 mb
This is a quite acceptable render time, very acceptable


This means that Render IN 3, if you can achieve results at reasonable times.
… Now I doubt my testings times


and I must responsibly ask my deepest apologies to the moderators, developers for my opinions regarding time.
While our beloved, Render IN 3 can improve the times, it is not a slow engine; with a suitable machine to work properly, we can achieve exelentes results.


As I always mention them, Render IN is an excellent tool and we always share our experiences, so that every day can improve this incredible engine




The end result, then I edit and share in work in progress
Touch me now, perform repair and maintenance of my machine.



Finally, thank Mauricio, for your excellent support




Thanks developers for our Render IN 3, hoping that we can continue improving every day

regards
Pedro